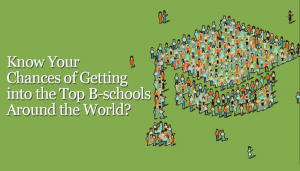 As the aspiring student who desperately wants to craft their way to success through an MBA degree, you're always on the hunt of a top-notch business school that could bring the world of difference to your prospect career. Being an MBA student, you would have a lot of business school on your radar but here are some of the top business schools which you must consider while applying.
On the top of the list, there is Harvard which enrolled 941 in its class of 2018 or 11% of those who applied. Whereas the Wharton's 2018 group has 851 students with an admission rate of 13% and tuition fee for such schools ranging from $64,000 to $74,000 per year which is leading to the total costs of year $100,000 for each two-year program.
Harvard Business School:
A 100-year-old business school holds the strongest brand position in the market and it would be a great opportunity for any student to add the Harvard Flagship into their professional achievement list. It has an average GMAT of 730 and ranges between 700 -770. In 2017, HBS was tied for 1st by U.S. News & World Report. No. 1 in the U.S. by Bloomberg Businessweek, and 4th in the world by the Financial Times.
HBS has one essay question with no word limit and expect the applicants to answer the question in a simple language. Harvard's essay question for the class of 2020 is mentioned below:

"As we review your application, what more would you like us to know as we consider your candidacy for the Harvard Business School MBA program?"
To increase your chances of getting into Harvard Business School, you need to keep your essays professional and well-structured in a simple language. Don't over think or over write which may lead to decrease your chance of getting into HBS.
INSEAD
An acronym for the French "InstitutEuropéend'Administration des Affaires" or European Institute of Business Administration, INSEAD is a renowned B-school offers full time MBA programme, Executive MBA, Master in Finance programme and other education programs. It constantly ranked among the best business schools in the world and ranked first in the global MBA programs in the world, according to Financial times.
It has an average GMAT of 707 and ranges between 620 – 790. It has a vast class size of 1024 and looks for the applicants with diverse profile. INSEAD has 4 Job description short answer essay questions and 4 motivation essays for the class of 2019 and are mentioned below.
Job Description Essays: 
Essay 1:Briefly summarize your current (or most recent) job, including the nature of work, major responsibilities, and where relevant, employees under your supervision, size of budget, clients/products and results achieved. (short answer)
Essay 2:What would be your next step in terms of position if you were to remain in the same company? (short answer)
Essay 3:Please give a full description of your career since graduating from university. Describe your career path with the rationale behind your choices. (short answer)
Essay 4:Discuss your short and long-term career aspirations with or without an MBA from INSEAD. (short answer)
Motivation Essays
Essay 1Give a candid description of yourself (who are you as a person), stressing the personal characteristics you feel to be your strengths and weaknesses and the main factors which have influenced your personal development, giving examples when necessary. (500 words max.)
Essay 2Describe the achievement of which you are most proud and explain why. In addition, describe a situation where you failed. How did these experiences impact your relationships with others? Comment on what you learned. (400 words max.)
Essay 3Tell us about an experience where you were significantly impacted by cultural diversity, in a positive or negative way. (300 words max.)
Essay 4Describe all types of extra-professional activities in which you have been or are still involved for a significant amount of time (clubs, sports, music, arts, politics, etc). How are you enriched by these activities? (300 words max.)
To increase your chances of getting into INSEAD, you need to write strong essays, for which you need to discover strong stories and should be able to understand the view of the adcom. You need to balance your strengths and weakness. Hence, you need spend lot of time on your essays.
ISB (Indian School of Business)
Indian School of Business is a reputed private business school having its campus in Mohali and Hyderabad. The institution possesses various management programs with the PGP (Post Graduate Program in management) as its flagship course. The admission procedure at ISB is rigorous and also has the distinction of having the most stringent selectivity ratio. But it doesn't really mean that you have no chance, you can make your way with the little extra amount of preparation.
It has an average GMAT of 707, GRE of 324 and ranges between 600-780, GRE 303-335. It has a class size of 879 (Hyderabad-604: Mohali-275) and looks for the applicants with diverse profile. ISB Essays 2017-18 remains the same as previous year and there's no additional essay required for re-applicants. ISB has 2 essay questions for the class of 2019 and are mentioned below.
2.      Essay 2: Describe your short and long-term career plans. How does the PGP fit in with those? (300 words max)
To increase your chances of getting into ISB, you need to have Academic credentials, Leadership Skills and Personal Attributes. It is just not the numbers game which will take you to ISB but it's your overall profile. You need to have diverse profile, well-structured essays including extracurricular, achievements during the tenure of your work experience and a good recommendation. Diversity in all form of life, like professional work experience, academic background, nationality, among others is also given due consideration.
HEC Paris
It's one of the most prestigious Business Schools that students have right now, located in southern suburbs of Paris, France. It is constantly recognized as the highly selective business schools in the world. The school grants a Grande Ecole degree (MSc in Management), pre-experience master's degrees, an MBA, two EMBA and offers a PhD program.
Its average GMAT is 690 and ranges between 620-760. In 2015 HEC received 1908 applicant's out of which 206 were accepted with an acceptance rate of 16.50%.  To get into HEC, applicants need to write 6 Essays mentioned below.
Essay 1:Why are you applying to the HEC MBA Program now? What is the professional objective that will guide your career choice after your MBA, and how will the HEC MBA contribute to the achievement of this objective? (500 words)
Essay 2: What do you consider your most significant life achievement? (250 words)
Essay 3:Leadership and ethics are inevitably intertwined in the business world. Describe a situation in which you have dealt with these issues and how they have influenced you. (250 words)
Essay 4:Imagine a life entirely different from the one you now lead, what would it be? (250 words)
Essay 5:Please choose from one of the following essays (250 words):

What monument or site would you advise a first-time visitor to your country or city to discover, and why?
Certain books, movies or plays have had an international success that you believe to be undeserved. Choose an example and analyse it.
What figure do you most admire and why? You may choose from any field (arts, literature, politics, business, etc).

Essay 6:Is there any additional information you would like to share with us? (900 words)
To increase your chances of getting into HEC, you need to have a strong application, excellent presentation skills, and one must present itself in a unique way. Keep the essays well-structured and simple language.
National University of Singapore (NUS)
It offers an Asian Program which enables Indian applicants to learn management in an International setting without burning their pocket at least in the relative terms. The high return on investment policy is quite popular among Indian applicants for which many students aim to get admission into NUS.
NUS have an average GMAT of 656 and ranges between 590-720 with a class size of 98. It is ranked as 26th in Financial times global MBA ranking 2017 and recognized among top ranked business school in the world. To increase your chances of getting into NUS, one must spend dedicated time on essays and must be self-oriented and excellent writing and verbal skills.
Northwestern University
Kellogg School of Management (The Kellogg School or Kellogg)
Kellog is one of the reputed business school of Northwestern University in Evanston, Illinois which is also have its additional campuses in Chicago, Miami, Florida, Downtown and Illinois. It offers full time, part time, and executive programs partnered with the schools in China, France/Singapore, India, Spain, Hong Kong, Israel, Germany, Canada, and Thailand.
Kellogg provides both 12 & 22 months MBA Program. Its average GMAT is 728 and ranges between 690-760. It is ranked as 12th in Financial times global MBA ranking 2017. Kellogg has anultimate offering of global learning openings, including 37 exchange programs across 20 countries. Kellogg has two MBA Essay Questions and one additional essay for the re-applicants and are as mentioned below.
Essay 1: Kellogg's purpose is to educate, equip & inspire brave leaders who create lasting value.  Tell us about a time you have demonstrated leadership and created lasting value.  What challenges did you face, and what did you learn? (450 words)
Essay 2: Pursuing an MBA is a catalyst for personal and professional growth. How have you grown in the past? How do you intend to grow at Kellogg? (450 words)
Re-applicants:Since your previous application, what steps have you taken to strengthen your candidacy? (250-word limit)
To increase your chances of getting into Kellogg, one must have excellent academics, good GMAT score and quality of work experience and must understand the requirements of the AdCom. Kellogg evaluates each application inall-inclusive manner and evaluates based on factors such as leadership ability, maturity and applicant's potential to contribute to the Kellogg community.
You can also know/calculate your chances of getting into ISB, Harvard, HEC, NUS and Kellogg or any other top B-Schools by using our ingenious tool called "Chances of B-School". This tool will help you analyze your real-time chances of getting an admission to a top MBA program (offered by top b-schools like ISB, INSEAD, Harvard, etc…) based on your GMAT score, work experience, your career aspirations, academics, self-analysis of your essays and interview skills.