General Education is a leading MBA application consultancy in India. It was founded by a team of best MBA admission consultants who are alumni of top-notch B-Schools like Harvard Business School, INSEAD, Darden, Oxford, HEC, and ISB. As the most trusted MBA application consultants have to offer, our primary motive is to provide the best and most ethical MBA counseling services to the applicants and help them secure admission in top business school of their dream.
We provide our applicants with holistic B-School application assistance with services such as profile evaluation, shortlisting of business schools, reviewing their essays and resume and interview preparation.
Our best MBA admission consultants offer professional guidance based on the applicant's profile, long-term, and short-term goals and various other statistics such as B-School rankings, course-ware, faculty, placements, to name a few. These statistics and data are shared with the applicants while providing counseling helping them shortlist their dream business schools.
Are you worried about funding and looking for Scholarship?
General Education expert consultants can help you write a compelling application essay that will increase your chances of getting admit from top B-Schools with scholarship. Read below for some of our recent scholarship admits.
| Name | Grad school | Admits | Scholarship details |
| --- | --- | --- | --- |
| Vaibhav | UCLA Anderson | UCLA Anderson | $60000 scholarship |
| Apoorva | Michigan Ross | Tepper, Ross, McCombs, Cornell | $40,000 scholarship from Tepper |
| Tarun Mathur | Duke Fuqua | Duke Fuqua | $20,000 scholarship from Duke |
| Vineet | Emory | Emory, UCLA, ISB, Indiana Kelley | Emory – 100%, Indiana Kelley – 50% Scholarship |
| Deep Sen | Purdue Krannert | Purdue, University of Illinois at Urbana Champaign, UC Irvine, University of Rochester -Simon, Boston University | Purdue University -$15000 scholarship + 20 hours Graduate Assistanceship ( $1300 stipend per month and 2/3 tuition waiver, University of Illinois at Urbana Champaign – 50% scholarship UC Irvine – 50% scholarship |
| Mansi | Darden | Darden, Georgetown, Kelley, Fisher, Emory | Georgetown: Full Scholarship, Kelley: 50% scholarship, Fisher: 50% Scholarship+Stipend, Emory: 50% Scholarship |
| Abhinav Iyer | University of California | University of California, Irvine | $40,000 scholarship |
Contact us for a free consultation
Service Introduction (Video)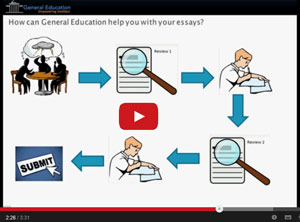 Service Introduction (Video)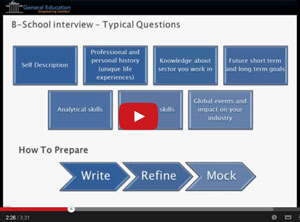 Service Introduction (Video)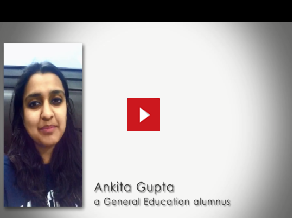 ---
Tips and guides from best MBA application consultants at General Education: