If you are a middle management professional considering a career change because you are unable to break the glass ceiling in your current role or if you are an entrepreneur struggling to expand your business to global markets, chances are that you are considering an MBA from an international business school.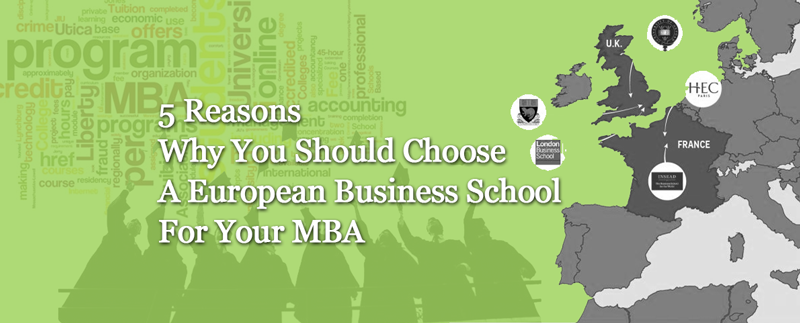 Most Indian applicants to international business schools look to the US, the UK or Australia to pursue their MBA dreams. But many are unaware of the fact that there are schools in Europe that have distinguished themselves for offering programs with strong international exposure and high quality teaching methodologies. Here is why you should consider getting your MBA from a European business school –
International network
Europe is home to a number if business schools that offer international MBA degrees targeting foreign students. These programs are designed specifically to cater to growing number of international applicants who wish to network with professionals across the globe and learn business and management skills that can give them an international perspective and equip them to take on a management career anywhere in the world.
Shorter program duration
Unlike business schools in US where an MBA program usually lasts 2 years, most European schools offer MBA degrees whose duration ranges from 12 to 14 months.  Shorter duration usually means a more intense course schedule, but it also means that you will be on the market sooner and a faster return on investment for your MBA degree. If you are an entrepreneur who opted for an MBA to improve your business skills or if your MBA has been sponsored by your employer, one year MBA will let you return to your company/employer sooner. Think of all the sunk cost you can avoid by finishing your MBA a year earlier.
Better rankings
Premium business schools take pride in their rankings that vary yearly depending on various factors, such as the employment rate of each passing class, their starting salaries, overall value of the program, etc. According to the latest financial times ranking of international business schools, 5 of the top 10 premium business schools are located in Europe. Here is a quick glance at the top rated business schools in Europe:
Insead, France (FT 2017 global ranking – 1)
https://www.insead.edu/
University of Cambridge: Judge, UK (FT 2017 global ranking – 5)
https://www.jbs.cam.ac.uk/
London Business School, UK (FT 2017 global ranking – 6)
https://www.london.edu/
IE business school, Spain (FT 2017 global ranking – 8)
https://www.ie.edu/business-school/
IESE business school, Spain (FT 2017 global ranking – 10)
www.iese.edu/
(Source – http://rankings.ft.com/businessschoolrankings/global-mba-ranking-2017)
Diverse class composition
European business schools have strict rules about diversity when accepting applicants to their MBA programs. Not more than a handful of students are accepted from each country. The result is a class of truly international composition rich in diversity in terms of nationalities, professional experience and gender. A typical European MBA class is made up of students from many nations like Greece, Germany, France, Netherlands, the UK and the Asia Pacific. For instance, SDA Bocconi's international MBA (www.sdabocconi.it/en/mba-executive-mba/full-time-mba) program is composed of students from as many as 30 different nationalities. Such diversity will help you build an international network of professionals from around the globe who can enrich your experience with their perspectives. It will also contribute to your understanding of various cultures, which can prove essential to your career.
Higher chance of acceptance
Since it is still an emerging market, not many Indian applicants focus on European business schools. This means that you are competing against fewer students when applying to a European school than an American school thereby increasing your chances of being accepted. According to latest numbers, about 50% of applicants to US business schools are international students and 20% are Indians but the class composition is only 25% international students, which means that foreign applicants have higher chances of rejection.
Tags: European business school