Rotman School of Management, especially for the MBA students is a massive hub of learning and career transformation. There is much more to learn in the classroom than just the usually learning experiences. Being a Rotman student, you are always on the new path of learning and get to experience the drastic transformation in your career. You have plenty of opportunities to get involved through widest spectrum of extra-curricular activities. Rotman occupies its students to build their social network along with having a lot of fun.
Classroom Experiences at Rotman School of Management
If you talk about the classroom experiences, then believe us, this is the best experience you are ever gonna get. The Full-Time MBA program by Rotman usually attracts top talent around the world along with an exceedingly diverse range of professionals and various academic backgrounds. Every student at Rotman, admit to the program is selected to contribute their vital experiences and perspectives to expand and supplement the MBA experiences.
Life at Rotman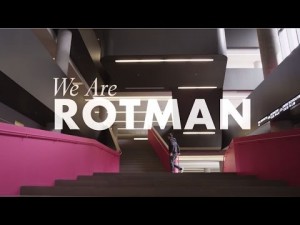 Being studying at Rotman, you are always charged up the challenge everyday to push your limits and build strong networks of many friends for life. Your learning at this place is so dynamic that you will have a lot of fun and experience the immense transformation in life at the same time. Unlike other MBA universities, you are not engaged into only boring stuffs or behaving like a book worm.
You are challenged and motivated to excl by the caliber of your classmates as well as peers who turn out to be your lifetime network of friends as well as business contacts. This is the place where even the weak students have remarkably demonstrated your excellence, be it in school, work or to other cultural activities by doing way the fun things in an interesting manner.
Rotman MBA Students Club
There is a range of diversity of student clubs in MBA program, and it's just remarkable in its own unique way. Whether you have a strong vision to grow your network by building your skills or you just want to have a good time with your classmates, you have a Rotman club to do away all the things in a fun loving manner.
Rotman range of diversities
If you want to find your place this is something you will halt over. Rotman delivers a commitment to diversity. The school attracts students from the widest range of countries, backgrounds and different walk of life. It provides real time study and working experiences which is not just safe but also welcoming, warm, respectful to all and filled up with all the love and regards for the students.
Other fun loving activites at Rotman
There are different activities and case competitions hosted at Rotman as a part of the core strategy course in the first year. So students get to step out form their comfort zone and participate in at least on core activity. It could either be a dodgeball which you have to play against your professors (let's take the revenge) or joining the Rotman Dragon Boat Team in summers, there is always a fun.
Rotman is synonyms to learning, having fun, making career and friends forever….
Tags: Rotman MBA