TAS, earlier known as Tata Administrative Services is the top notch leadership programme created by the late chairman of the Tata.
TAS, earlier known as known as the Tata Administrative Services, is the top leadership programme created in 1956 by JRD Tata, the late chairman of the Tata Group. With the foundation of TAS, he planned to form a group of leaders who would guide the company with their intellectual approach and can make it more powerful in terms of business.
As a part of their training program, TAS recruits are intensively trained through he various industrial sectors of Tata Group, by the best team of managers and high level executives. In order to augment their learning experience, they do visit corporate offices, factors and the plants of various group companies to cooperate with the management executives, as well as the operation teams.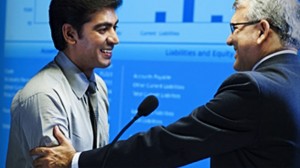 TAS is one of those few renowned career building brands in Indian business schools that actively recruits young postgraduates from the top notch business school every year and besides that, it also recruits its inhouse employees and positions them through a careful 12 month program to endow them a wider view of business and prepare for general management roles.
The selection process at TAS goes through a lot of critical stages mentioned below but out of all these four faces, chairman's GD round is somewhat you really need to be prepared for.
Chairman's GD Round
Case Study Presentation
IRIS psychometrics
Director's round of interviews
Chairman's GD Round at TAS is the first round where you are required to act as the chairman of the group. There are 8 small caselets which are discussed and most of them are related to the day-to-day decisions taken in an organization. When you act as the Chairman of the company in your Chairman's GD round, you are mostly surrounded with the most intellectual people of the company but one thing that can boost your confidence is that, "you are the chairman of company" at least for that particular time.
So think about the role that you have been given and then act in a same manner. While you are the chairman, you are not bound to be scared, nervous or to be low on confidence in any manner. You just need to gather up your wits and come up with the courage to butt in the discussion strongly with any chosen argument before your time run out.
When you actually act like a chairman, the discussion starts going very smoothly and things turn normal than ever before. If you will play bold you will get more points in your kitty. Throughout your discussion, all you have to ensure is that you're the chairman and chairman is a person who's never scared of anything and a person who always plays safe irrespective of all the predicaments, troubles and situations. So take care of this in future.