MBA is as it is a tough course to finish for one time; however, few people opt for going through the pain all over again.
So, what is the second MBA and why do people opt for it?
Second MBA is what it is, MBA for a second time. Professional who don't feel enough potential in their career growth or who want to shift their careers to some other business function all together opt for a second MBA. Most Indian students, who have passed out of some of the best domestic B-schools, look for a second MBA in Ivy League world's best business schools.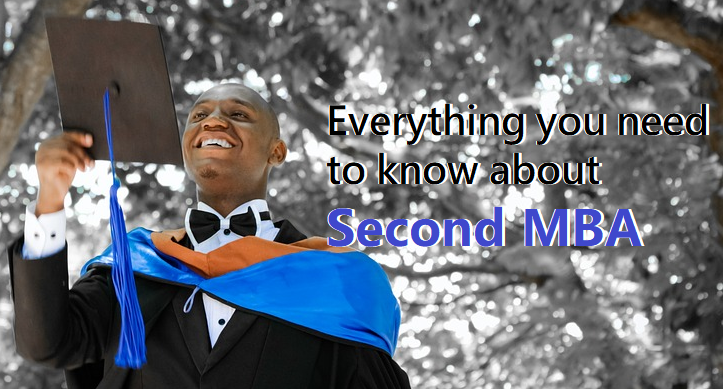 Though it might sound like a cakewalk for an MBA graduate to secure a seat again in one of the B-schools, the reality is far from that. Not all B-schools accept second MBA candidates. The age and work experience of the candidate could be major hindrances in pursuing a second MBA.
Let's see the top benefits that lure people to go for a second MBA:
A second MBA with work exposure:  
Unlike international B-schools, Indian B-schools have no problem in accepting candidates without any prior work experience. Most of the candidates, who do their first MBA without any work experience, fail to evaluate the right industry or business function for their competencies.  Hence, such people tend to take another chance at the course with work experience and industry exposure.
Get a better college on your profile:  
This is one of the most common reasons to go for a second MBA. Candidates who have passed out not so reputed colleges in the first time would like to amp up their resumes by getting a degree from a more reputed and recognized college.
Shift to another industry where you fit in:
Another popular reason for pursuing a second MBA is to make a career shift to another industry. It is not an easy task to shift career or industries once you have started your career in an industry. A second MBA will open up doors of other careers and industries that might suit the skillset of the person better.
Great way to fight bad job markets:
In an era where disruption in every industry is inevitable and persistent, it is very common for people working in certain industries and economies find it better to do a second MBA to change the fate of their careers. Second MBA will give them a chance to change from suffering industries and economies.
To boost their career:
People who feel that they haven't reached their full potential in their career, can aim to do an MBA from a better and well-recognized college to boost their career growth.
Now let's see the internationally recognized MBA colleges which do and don't accept second MBA applicants.
Colleges that accept second MBA applicants:
Many high rated business schools accept applications for the second MBA. One needs to go through the admissions policy of the particular b-school to know if they accept second MBA application or not.
However, few business schools specifically don't accept second MBA applications.
Colleges that don't accept second MBA applicants:
Tuck School of Business (Dartmouth)
Haas School of Business ( UC Berkley)
Duke Fuqua school of business
Vanderbilt School of Business (Owen)
1 Year versus 2 Years MBA:
There are many options available for one year and two year MBA programs across the list of top MBA colleges. However, deciding which one to choose is something that depends on a few factors like your profile, the industry you want to pursue after MBA, your budget for the second MBA, the time you are willing to dedicate and the programs offered at the university you are interested in.
List of a few most popular B-schools for a second MBA:
| | | |
| --- | --- | --- |
| College | Location | Tuition |
| INSEAD | France | $ 98,400 |
| HKUST | Hong Kong | $ 75,000 |
| SDA Bocconi | Italy | $ 64,500 |
| IE Business School | Spain | $ 82,000 |
| IMD | Switzerland | $ 85,000 |
| Saïd (Oxford) | UK | $ 72,000 |
| Judge (Cambridge) | UK | $ 70,000 |
| Kellogg | US | $ 98,720 |
A second MBA needs to be worth it as if only for the degree it may not be necessary to pursue it.
Hence, it is important to review all the aspects much more carefully than the first time around.
Tags: 2nd MBA