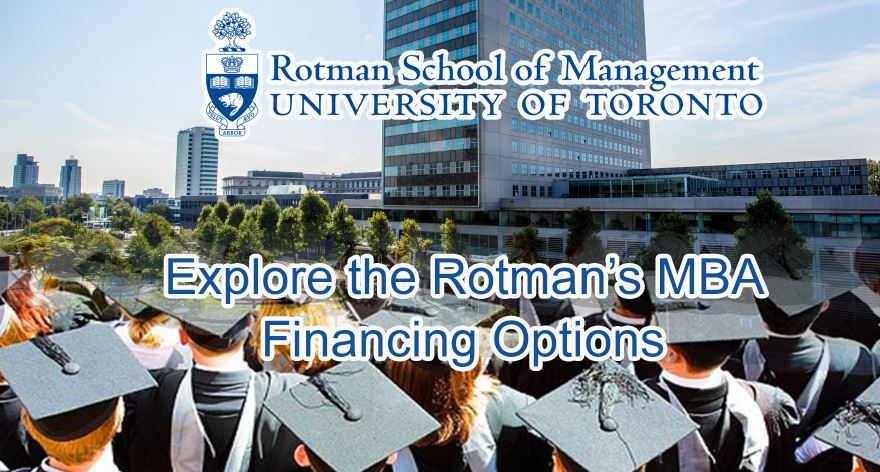 Did Rotman Business School make it to your MBA shortlist? Well, you have made a smart choice. Rotman Business School is a very reputed and progressive Canadian management school. It opens gates to a wide range of opportunities for its students. These opportunities, however, come with an expensive price tag. Nevertheless, the B-school also offers generous financial aid programs, so that money won't be a hindrance to high achieving yet financially challenged students. You can browse through the following options for getting a financial assistance and figure out which one or a combination works the best for you.
Scholarships:
Rotman's financial aid program includes quite a few merit-based scholarships for international students. These scholarships are awarded by taking your academic performance, extra circular activities, volunteering history and leadership initiatives into account.  Few of the scholarships may require you to have a genuine financial need. As an international student, you are eligible for scholarships ranging from $500 to $25,000, obviously with conditions applied.
At home, we have two institutions which specifically provide scholarships for Indian students aspiring to study aboard. These institutions are The J.N. Tata Endowment for the Higher Education for Indians and Aga Khan Foundation. They provide a gift, loan, and combination (a ratio of scholarship would gift and rest would be loan based) scholarships. Although, the competition is high and the scholarships are limited in number.
Awards:
Rotman also has a set of awards given to exceptional students at different levels of the MBA program. These awards come with huge cash benefits; they go as high as $25,000. You have to be an achiever in academics, sports or other fields to be eligible for these awards. These awards are given in first, second and subsequent years of MBA.
The recipient list for these awards is decided by the Rotman's Recruitment and Admissions office. So if you are selected for any of these awards you will be duly notified along with your offer of admission.
Loans:
As an international student seeking an admission into a full-time MBA program, you can always apply for an education loan. Under Rotman Professional Student Loan Plans, you can apply for a loan in The Bank of Montreal and The Royal Bank of Canada. However, you need a co-signer who is a qualified Canadian resident or show cash collateral.
Don't worry if do not have anyone to cosign your loan application. You can get a Standby Letter of Credit issued from any BMO-approved bank in India. The Letter of Credit is a surety that your Indian bank gives to repay your student loan in case you default.
If the above process is too complicated for you, you can always take an educational loan from one of our Indian banks. Even Rotman's official website has the list of these five Indian banks you can approach for an education loan.
Bank of Baroda
Bank of India
Canara Bank
Punjab National Bank
State Bank of India
Avanse and Credila are other two education finance companies supporting Rotman aspirants from India for years.
Employment Opportunities:
Internships and Co-Op Employment:
Rotman's MBA curriculum includes a Flexible Internship Program. Through this program, you can secure a paid job or internship to financially support your education and yourself. An average monthly income of an MBA student in Rotman would be $5,000 per month. About 80 to 90 % of the full-time MBA students get at least one paid internship opportunity in summer, fall or winter/spring work terms. Therefore, these paid internships would a decent financial aid for your education.
Teaching and Research Assistantships:
Rotman offers varied teaching and research assistantships programs. You can apply for these positions not only in Rotman but also in other departments, campuses, and colleges of the University of Toronto. No doubt these opportunities will be a boost to your finances, but imagine the exposure they will give you and the upgrade they will give your profile. You can apply for these jobs after you finish your first year of MBA. You can also apply for a limited number of research assistant positions in MBA second year. These assistantships are not included in financial assistance program and are considered as employment and yes the income from these jobs is taxable.
Tags: Rotman Fees, Rotman MBA, Rotman Scholarships