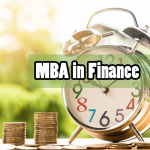 You love numbers; the game of complex numerical study is always aspiring. You love calculations which mean you can handle the most nerve-wracking tasks always being done on the backhand of almost all the departments.
Yes, it's a finance department in all sections that always play a core part. And the same might be the reason why so many folks are aspiring to do an MBA in finance which by and large commands better positions and higher salaries upon graduation. Many MBA programs are offered on an amateur basis, making them available for working professionals.
Top B-schools to do MBA in Finance
University of Pennsylvania – Wharton
Bank, Stocks, Bonds, Accounting, Finance department is always a core part of any industry. Therefore, Wharton University has always been on forefront to provide best MBA courses to the individuals.
Fee Structure: $109,450*
New York University (NYU) – Stern
If you are dreaming to have a fascinating career in finance departments, start it by pursuing the best ever MBA programme in finance by participating in real world of learning at NYU-stern.
Fee Structure: $110,562*
Columbia Business School
Master of Science in Financial Economics, a two year STEM eligible master degree provided by Columbia business school is a wonderful opportunity to have the great successful career in financial sector.
Fee Structure: $168,307*
Stanford Graduate School of Business
MBA in finance offered by the university provides individualwith the wonderful career opportunities in finance sectors with their vastly experienced faculties.
Fee Structure: $112,797*
MIT Sloan
Master of finance at MIT Sloan has being brought by seeing the increasing demand in the financial industry where students are offered in-depth study of quantitative techniques with practical, hands-on business problem solving.
Fee Structure: $163,897* for 18 months
MBA in Finance – Class Profile
MBA in finance typically provides you with a foundational education in economics, strategy, marketing and leadership. Participants usually opt a specialism during the second half of these 2 year programme.
Some MBA schools provide a curriculum loaded with high business related courses including the management methods and accounting with some electives in financial subjects. This may also allow students to focus in topics related to finance such as real estate studies, commercial or investments. Some common topics taught in finance MBA include –
Corporate finance
Investment banking
Market trading and volatility
Global economy
Stock market analysis
Foundations in finance
Financial instruments& more
Employment Advantages
Financial managers can anticipate moderate to faster-than the average growth of approx 12% from 2014-2024 with the opportunity of various available positions. MF (MBA Finance) providing an increase in jobs of 7%-16% for financial professions. Some popular career paths for MBA in finance graduates comprise –
Chief financial officer
Commercial or investment banker
Real estate or insurance finance manager
Financial controller or director
Manager of a finance department
MBA in Finance – Eligibility Criteria
Employed professionals working in finance or in allied business domains, must have three year undergraduate degree in the relevant disciplines with the adequate preparation in mathematics, and at least 2 years of work experience in the relevant domain.
Tags: MBA in Finance