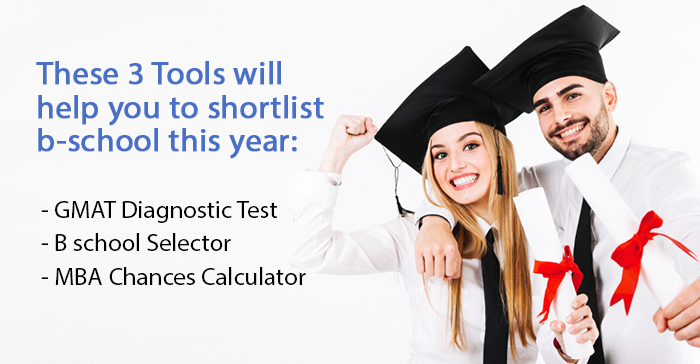 GenedMBA is not only about GMAT prep. At GenedMBA, we have amazing tools to support you in your GMAT prep and MBA admissions journey. These tools will help you enhance your process and planning at every step of your course of admission. These tools have been designed by the best in the industry to give you an extra edge in your preparation and planning over others.
Let's take a look at our remarkable tools such as Mini GMAT Diagnostic test, Intelligent B School selector and MBA chances calculator.
Mini GMAT Diagnostic:
How can you start a journey if you don't know where you stand now? To help you know where you stand before you start a GMAT prep course with GenedMBA, we provide you with a mini GMAT Diagnostic test. "Mini" because it is a miniature version of the actual GMAT test you would be facing at the end of the Prep.
This Mini GMAT Diagnostic test will be conducted only for 45 minutes as opposed to the actual test which is 3 hours 30 minutes long. However, our mini GMAT Diagnostic test aims to achieve all the testing points with this 45 minutes time span.
This would be a Computer Adaptive Test just like the actual one. At the end of which, you would be given an extensively analyzed report card of your test performance. This report will explain your areas of strength and weakness which will, in turn, help you sketch out a Prep plan right from the start of your course.
Our team of instructors will help you figure out your areas of improvement and create a study plan accordingly. This way you will walk into the program, knowing exactly what to do. Other than the diagnostic test Genedmba also offers mock tests and practice tests as a part of the package. You would be taking these tests throughout the course of your GMAT prep.
Intelligent B school Selector:
Why go through the pain of manually shortlisting MBA colleges which suit your GMAT score and profile? GenedMBA provides an intelligent B school selector which selects the best B-schools for you, determined by your background and your GMAT score. This will give you a quick start over which B schools to consider for your international MBA admissions.
The B-school Selector is created by consultants at GenedMBA who themselves have been students of Ivy League colleges once. All you have to do is fill in your details such as your work experience, international work experience, GMAT score and academic details. After analyzing the details given by you, the B-school selector tool generates a list of B-schools where you would have a fair chance of attaining an admission.
This list of B-schools given by Intelligent B school selector is very broad which is determined by basic details given by you. For more specific and narrow list of B-schools you can always contact the team at Genedmba through an email.
Evaluate your chances for B-schools:
Have big MBA aspirations? Want to know how good are your chances to get into your dream B School? GenedMBA has an amazing unique tool which tells you about your chances to get into the top B-schools.
This analysis is based on the details you give about your GMAT score, academic record, work experience and nature of it, career aspirations, self-reviewed ratings of the essays and your interview skills. This information given by you is compared against the admission standards of B-schools like ISB, INSEAD, Harvard or IIM to see how good are your chances to get an admission into one of these top-rated MBA colleges.
The information you give for the analysis is very specific such as extracurricular activities, size of teams you led in the past, marks of your 10th and 12th classes, Entrepreneurial experience, annual revenue and much more. Hence, the results given by this tool are very close to being accurate.
If you need even more in-depth and accurate answers you can always consult our expert consultants at GenedMBA who will be more than happy to help you with shortlisting the right set of B-schools for your GMAT score and profile. For consultation on the same you can email @ enquiry@genedmba.com.