When it comes to choose business school, there is no lack of choices. Even there are so many good options that you can't even judge you own decision in a single take. And each of them has its own specification. Among all the business schools you have gone through as of now, IMD is also one of the globally renowned business school located in Lausanne, Switzerland.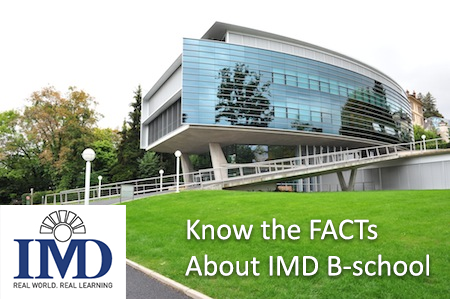 More about IMD
What exactly segregate IMD comparatively to other business school across the globe is its consistent ranking like- their image of being expert in developing the global leaders through their high impact executive education. Here in the crammed full world of customized program design and delivery, IMD wonderfully manages to stand out and pop up as the world leader and pioneer in the corporate leadership development.
IMD, with the experience of working with the top notch organizations across the world and their CEOs, learning and the talent executive, it holistically manages to bring the insights, tools and the mindsets which amazingly help out the organization to deal with the actual predicaments as well as the challenges to enhance the learning experience and to create the highly positive business impact.
Major Offerings
IMD, being a top notch business school across the globe has generally two major offerings
Degree programs: the MBA, the EMBA and the Dual EMBA IMD-CKGSB programs
Executive education: open enrollment and company custom programs
The degree programs have triple accreditation by AACSB, AMBA, and EFMD (EQUIS)
IMD Rankings So Far…
In the open programs worldwide, IMD is ranged first and top 3 in the executive education worldwide back to back 5 years in a raw (by financial times 2012-2016). As per the Forbes, 2011 and 2013 ranking, IMD ranked number one and also in the financial times 2014 ranking by following the criteria such as international mobility, international faculty, aims achieved, placement success and international business.
In Short:
Rank in 2017- 21
Rank in 2016- 13
Rank in 2015- 20
3 year average rank- 18
Country- Switzerland
Audit Year- 2015
Alumni Career Progress Chart
Salary today (US$)- 156,648
Weighted salary (US$)- 154,511
Salary percentage increase- 81
Value for money rank- 8
Career progress rank- 31
Aims achieved (%)-87
Careers service rank- 48
Alumni recommend rank- 17
Why should you go to IMD?
Among hundreds of reasons behind joining IMD, some of the core facts are that it's holistically focused on the real world executive development and also offers the Swiss excellence with the global perspective and more often, it has a flexible, customized and effective approach.
IMD's Alumni Network
IMD has a very strong and powerful business network which is having more than 100'000 executives globally who has partaken in an IMD program. There are 45 active clubs in the network all across the globe. It also provides you with the on-going learning as well as the networking opportunities to alumni through the events and class reunions including Biennial International Alumni event.