In our previous post, we discussed 5 reasons to pursue an MBA from business schools in Europe. We saw how various factors like better ranking, program structure and diverse class composition make European schools a better choice to acquire a truly international perspective and global management skills for aspiring MBA applicants.
In this post we will look at are 5 more reasons why you should head to Europe to pursue your MBA dream –
Wide range of programs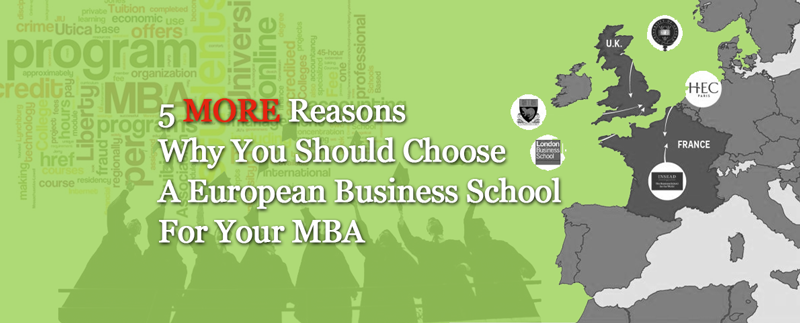 European business schools are the right destination for you if your aim is not the typical management career in consulting or investment baking, but something more exclusive like fashion or tourism. Here is a list of schools offering MBA programs in nichesegments –
EU Business School, Spain – MBA in Leisure & Tourism Management
https://www.euruni.edu/en/Programs/MBA/MBA-Leisure-Tourism/Overview/MBA-Leisure-Tourism-Management.html
VATEL Bordeaux Hotel & Tourism Business School, France–MBA in Wine & Spirits Management
http://vatel-bordeaux.com/study-here/mba-in-wine-spirits-management/
IFA, Paris, France – MBA in Perfume and Cosmetic Management
https://www.ifaparis.com/courses/postgraduate/mba-perfume-cosmetics-management
Essec business school, France – MBA​ ​in ​International Luxury Brand Management
http://www.essec.edu/en/mba-international-luxury-brand-management/
Royal Agricultural University, UK – MBA in Advanced Farm Management
https://www.rau.ac.uk/study/postgraduate/courses/mba-advanced-farm-management
Affordable tuition fee
MBA is an expensive affair, with tuition ranging from $65,000 to $100,000 for a 2-year program from a good school in the US. Compared to its US counterparts, European schools offer a better value for money as many charge a smaller tuition fee. Checkout some of Europe's affordable MBA programs –
Athens University of Economics & Business – € 12000 tuition fee
http://imba.aueb.gr/programs-admissions/full-time/
Hochschule Pforzheim, Germany – € 3000 tuition fee per semester
https://businesspf.hs-pforzheim.de/en/studies/students/master/mba_international_management/
Koç University Graduate School of Business, Turkey – 63,400TLtuition fee
https://gsb.ku.edu.tr/en/mba-koc
Smaller class size
Unlike business schools in the US, European schools have a smaller intake in their MBA programs. The class size of a good American business school is typically 700 to 900, while that in a European business school is much smaller. IMD, Switzerland (https://www.imd.org/mba/one-year-mba-program/) accepts only 90 students per year in its full time MBA program. SDA Bocconi, Italy (www.sdabocconi.it/en/mba-executive-mba/full-time-mba) international MBA has a yearly intake of only 100 students. Smaller class size means more attention to each student, better class participation and enhanced interaction with peers and teachers during the course curriculum.
Better visa norms
One of the major issues Indian applicants to any program in the US face is the high rejection rate of visas. This is not the case with Europe. Most European nations have less severe visa norms; especially for students and Schengen visa is easier to obtain than an American visa.
Opportunity to travel and learn a new language
Most business schools in Europe offer MBA programs in English. But they usually provide free beginner's language classes to international students to familiarize themselves with the local language. In addition, Schengen visa lets you travel across 26 countries without any formalities or border checks. Europe is rich in culture and diversity, and experiencing it first hand will equip you with the necessary understanding and perspective for a management career in any of the European countries.
Tags: European business school